60′S MGB ROADSTER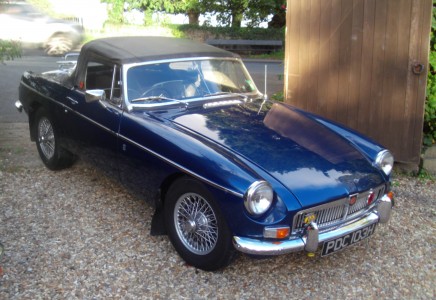 60′S MGB ROADSTER Vehicle Specification
DEPOSIT NOW TAKEN   ,,  WE HAVE RECENTLY  TAKEN THIS LOVELY ROADSTER BACK IN TO STOCK FROM THE GENTLEMAN/ENTHUSIAST WHO PURCHASED IT FROM US PREVIOUSLY
HE HAS NOT RECENTLY HAD THE TIME TO USE IT . AND THOUGHT IT BETTER A NEW OWNER/CARER COULD ENJOY IT AS MUCH AS HE HAS .
HE HAS ENTHUSIASTICALLY MAINTAINED AND IMPROVED THE MG WHILST IN HIS OWNERSHIP, INCLUDING,, NEW TYRES / SUSPENSION/BRAKES / STAINLESS STEEL EXHAUST SYSTEM / OIL COOLER AND MUCH MORE WITH NO EXPENSE SPARED AND NOW NEEDS FOR NOTHING "JUST A NEW LOVING OWNER"
THIS IS A TRULY LOVELY AND DESIRABLE "60′s ROADSTER" LOOKING VERY NICE IN THIS RARE METALLIC BLUE WITH UNMARKED CONTRASTING LEATHER INTERIOR ALSO PIED IN BLUE
THE MG DRIVES SUPERB, GREAT THROUGH THE GEARS WITH OVERDRIVE ON 3RD AND 4TH , THE BODYWORK IS RUST FREE WITH GOOD STRAIGHT PANELS AND BEAUTIFUL PAINT FINISH.
TO CONCLUDE A GOOD HONEST SOLID GREAT LOOKING AND DRIVING 60′s MGB ROADSTER AT A REALISTIC PRICE CONSIDERING THE OVERALL CONDITION AND ALSO THE AMOUNT RECENTLY SPENT .TO MAKE THIS MG TIP TOP .
TO BE SOLD WITH MY USUAL WRITTEN WARRANTY .
WE CAN DELIVER ANY WHERE IN THE UK.
SERIOUS PHONE INQUIRIES PLEASE AS WE NO LONGER RESPOND TO E,MAILERS
I BELIEVE ITS ALWAYS BEST TO SPEAK PERSONALLY, THAT WAY I.M SURE YOU WILL GET A MUCH BETTER FEEL FOR THE CAR AND AND ALSO THE PERSON YOUR BUYING FROM .
Contact Us regarding this Vehicle