60′S MGB ROADSTER ( sold )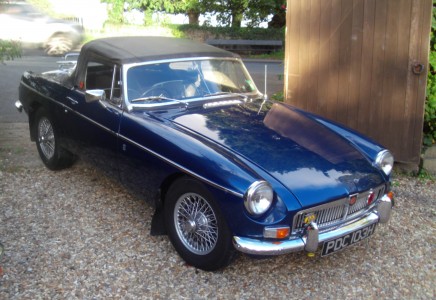 60′S MGB ROADSTER ( sold ) Vehicle Specification
"OFFERED BEFORE FULL WORKSHOP PREPARATION" LOOKS AND DRIVES SUPERB , WILL STILL CARRY MY PERSONAL WRITTEN WARRANTY .
SORRY NOW SOLD
WE HAVE JUST TAKEN THIS LOVELY ROADSTER BACK IN TO STOCK FROM THE GENTLEMAN/ENTHUSIAST WHO PURCHASED IT FROM US 4 YRS AGO '
HE HAS NOT RECENTLY HAD THE TIME TO USE IT . AND THOUGHT IT BETTER A NEW OWNER/CARER COULD ENJOY IT AS MUCH AS HE HAS .
THIS IS A TRULY LOVELY AND DESIRABLE "60′s ROADSTER" LOOKING VERY NICE IN THIS RARE METALLIC BLUE WITH UNMARKED CONTRASTING LEATHER INTERIOR which is ALSO PIED IN BLUE .
THE MG DRIVES SUPERB, GREAT THROUGH THE GEARS WITH OVERDRIVE ON 3RD AND 4TH , THE BODYWORK IS RUST FREE WITH GOOD STRAIGHT PANELS AND A BEAUTIFUL PAINT FINISH. JUST THE ODD AGE RELATED MARKS NOT AT ALL DETRACTING FROM THE OVERALL APPEARANCE , ALWAYS ADMIRED OUT ON THE ROAD AND OCCASIONAL SHOWS ,
SO TO CONCLUDE NOT A TRAILER QUEEN, BUT A GOOD HONEST SOLID USE-ABLE GREAT LOOKING 60′s MGB ROADSTER AT A GREAT PRICE .
WE CAN DELIVER ANY WHERE IN THE UK.
Contact Us regarding this Vehicle