AUSTIN HEALEY SPRITE (GROUND UP RESTORATION)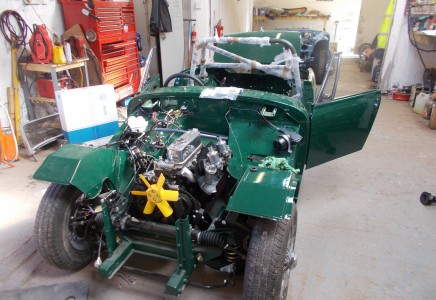 AUSTIN HEALEY SPRITE (GROUND UP RESTORATION) Vehicle Specification
AUSTIN HEALEY SPRITE currently having a full ground up rebuild in our Harlow Carr Harrogate workshops .
Will have full detailed photo records, can be the color of your choice .
To include my personal written warranty .
WILL BE AMONG'ST THE BEST EXAMPLES IN THE UK.
We also have another Sprite almost finished , the gentleman who has overseen his dream being meticulously rebuilt will be happy to share with you his experience of seeing each stage of the restoration as he closely oversaw and added his own personal touches along the way .
GENUINE INQUIRIES ONLY " BY PHONE PLEASE " if you would like to be involved with creating the perfect car for you .
FIRST FEW PICS ARE OF TWO HEALEYS WELL ON THE WAY TO COMPLETION .
THE NEXT PICTURE IS OF OUR TALENTED ENGINEER WORKING ON THE CURRENT HEALEY RESTO.
THE FOLLOWING PICTURES ARE OF A CURRENT ONGOING RESTORATION OF A RARE RHD VW KARMENN GHIA ALMOST COMPLETE, PICTURED IN OUR PAINT SHOP .
THE LAST PICTURE SHOWS THE PAINT SHOP READY FOR ACTION .
PHONE INQUIRIES ONLY ,, No E,mails or photo requests,,,, however if you decide to purchase any of our restorations we will then be happy to keep in touch by e,mail and send you ongoing pictures of the cars progress and you will certainly be welcome to view the car at any stage of the restoration as many of our customers/friends already are doing.
Contact Us regarding this Vehicle