CITROEN 2CV VAN
CITROEN 2CV 1965 RARE (SUICIDE DOOR) VAN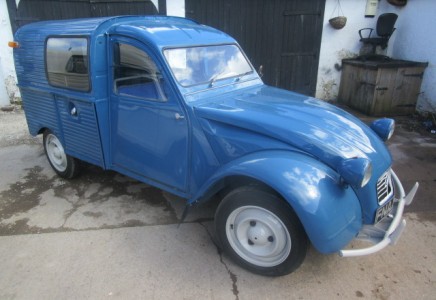 CITROEN 2CV 1965 RARE (SUICIDE DOOR) VAN Vehicle Specification
Not many of these about with the suicide doors , what character !! and what a superb mobile advertising board ,, everybody looks and smiles as it is now ,,imagine it with your business details on it, drive it,, park it in a prominent place,, deliver things in it,, it will also keep on increasing in value "win win" and have some fun along the way ,
WE ARE CURRENTLY USING IT TO ADVERTISE MY WIFES BUSINESS AS YOU CAN SEE IN LATER PICTURES THE SIGNS ARE MAGNETIC AND COME OFF IN SECONDS .
WE HAVE JUST COMPLETED A FULL INSIDE AND OUT PROFESSIONAL REPAINT IN OUR HARROGATE BODY SHOP SHE IS RUST FREE , WE ALSO REBUILT ITS LITTLE ENGINE ALSO HAS A NEW GALVANIZED CHASSIS. NEW SEAT COVERS ON ORIGINAL SEAT FRAMES.
SOLD WITH MY PERSONAL RECOMMENDATION ,12 MONTHS MOT AND WRITTEN WARRANTY .
CAN BE DELIVERED TO YOUR DOOR ANYWHERE IN THE UK
PLEASE (RING) FOR FURTHER INFORMATION OR APPOINTMENT TO VIEW IF YOU ARE SERIOUSLY INTERESTED ,
WE HAVE NOW STOPPED WITH BACK AND FORTH E,MAILS AND ONGOING PHOTO REQUESTS. THE OLD FASHIONED WAY " TALKING TO THE PERSON/COMPANY WHO IS SELLING IT" WILL ALWAYS BE MORE INFORMATIVE OF THE VEHICLES CONDITION.
..
Contact Us regarding this Vehicle