FORD CORTINA 1964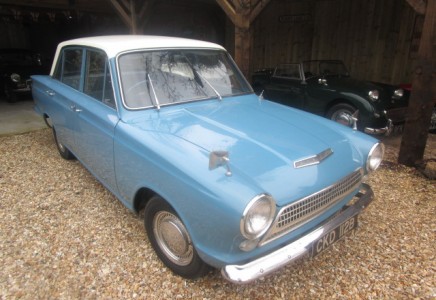 FORD CORTINA 1964 Vehicle Specification
This Cortina brings memories flooding back for me !! as a teenager I used to see one this colour combination driving around when I was working as a builders laborer and wondered who the rich person driving it was and thought maybe one day I would own a car like that and here it is another dream fulfilled ..
This lovely examples looks to be in a time warp not over restored appearance, and definitely not needing restoring it still has the original rubber mats and well preserved original interior,,drives perfect and totally sound throughout even the headlining is perfect and certainly not been smoked in ,, needs for nothing and preferably to be left exactly as it is today 52 years after coming out of the factory .
The last photo's now show it proudly sat on the new white walls ,, I just couldn't resist adding that little something to her looks
All these years later will be sold to its new owner with my personal written warranty
Can be delivered to your door any where in the UK.
Please contact me by phone you know that posh contraption not many people had in the early sixties ! ! and when e,mails were unheard of .
Contact Us regarding this Vehicle