MUSTANG
FORD MUSTANG 289 1965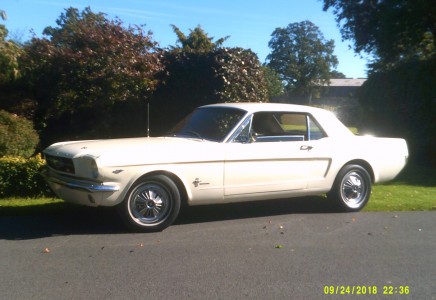 FORD MUSTANG 289 1965 Vehicle Specification
TEL 07799382289
This just has to be the one to own,,,, A "65 MUSTANG" 289 V8 , ABSOLUTELY ARROW STRAIGHT AND ORIGINAL , WITH THE BENEFIT OF A STUNNING NEW TOP QUALITY PAINT FINISH .
THE UNDERSIDE IS TRULY REMARKABLE AS THE DAY IT LEFT THE FACTORY .
PLEASE CALL FOR FURTHER DETAILS, THERE IS A PASSIONATE STOREY AND PERSONAL ATTACHMENT TO THIS 65 MUSTANG, WHICH IS often featured on a  CLASSIC MOTORING PROGRAM ON THE YESTERDAY CHANNEL .
CARS LIKE THIS ARE FEW AND FAR TO BE FOUND IN THIS INCREASING MARKET TODAY,, AND WOULD NOT HAVE BEEN OFFERED FOR SALE UNDER OTHER CIRCUMSTANCES .
Take a look at our Americana museum where all our American cars live This fabulous Mustang is now in our air conditioned 50′s style service station,, within our  Americana museum.take a look at the Vegas style show bar where I also play in a 60′s band .  RECENTLY FEATURED ON BANGER'S AND CASH  SHOWN ON THE YESTERDAY CHANNEL .
WILL BE SOLD WITH MY PERSONAL RECOMMENDATION AND WRITTEN WARRANTY , CAN ALSO BE DELIVERED ANYWHERE IN THE UK AT REASONABLE RATES.
PART EXCHANGES CONSIDERED FOR MOST TYPES OF CLASSIC VEHICLES .   VERY KEEN ON AMERICAN PICK UPS
NO E=MAILERS PLEASE ONLY GENUINE SERIOUS ENQUIRIES BY THE THING WE SPEAK IN TO .
YOU COULD BE THE FIRST REGISTERED OWNER IN THE UK , THE PLATES ARE ONLY SHOW PLATES .
Contact Us regarding this Vehicle