FROG EYE SPRITE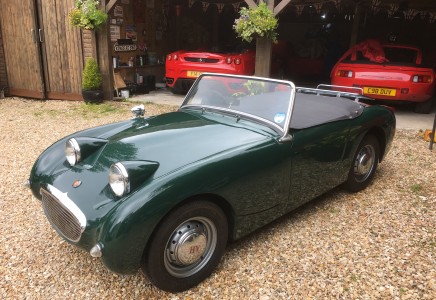 FROG EYE SPRITE Vehicle Specification
THIS IS A CHEEKY LITTLE CHAP THAT NEEDS LEAVING EXACTLY  "AS IS ".
As car restorers we sometimes get carried away with trying to make these fifty year plus classic totally immaculate and sometimes manage it,, at great expense  but now in my opinion things in the classic car world have gone somewhat over the top   to the point that any nostalgic memories of these cars have been erased .
I WAS AROUND IN THE SIXTIES AND CAN CONFIRM THEY WHERE NEVER THAT IMMACULATE,, THEY  HAD LOADS OF CHARACTER  AND USABILITY,,  A COUPLE OF HUNDRED QUID WOULD HAVE BOUGHT YOU THAT DREAM CAR AND LOADS OF FUN ..
AND WHAT DID WE DO ? WE DROVE THEM  , ENJOYED THEM ,  MAYBE POLISHED THEM ON A WEEKEND ,, WENT BIRD PULLING IN THEM  ,  WENT TO THE COFFEE BAR IN THEM ,  TINKERED AND TOUCHED THEM  UP ON A WEEKEND  .
THOSE ARE THE MEMORIES WE HAVE SO WHY HAVE WE GOT SO OBSESSED WITH TRYING TO RECREATE SHOW CARS WE HARDLY DARE DRIVE,, " OH DEAR ITS RAINING !!!!!!….
THAT'S WHY I HAVE DECIDED TO LEAVE THIS LITTLE FROG EXACTLY AS IT IS  ,,  ORIGINAL ,,,FULL OF CHARACTER  DRIVES GREAT AFTER RE COMMISSIONING,, ALL NEW BRAKE WHEEL  CYLINDERS /SHOES ETC RENEWED INCLUDING MASTER CYLINDER, ,  CLUTCH MASTER AND SLAVE CYLINDER RENEWED ,, SERVICED AND TUNED UP ,STARTS ON THE BUTTON AND DRIVES EXACTLY AS I REMEMBER, A TRUE DRIVE DOWN MEMORY LANE  OR WAS IT   PENNY LANE !!!!!  , .
IF YOU THINK YOU CAN HAVE FUN FROM A £30,000 FULLY RESTORED FROG  GREAT!! ,, BUT IF YOU WOULD LIKE TO RECREATE THAT 60′S VIBE  THIS COULD BE THE ONE ,, RUST FREE ,LOOKS SMART AND READY TO GO NO WORRIES IT COMES WITH MY PERSONAL WARRANTY ,,,,,,  I WILL ALSO GUARANTEE  YOU it WILL BRING BACK SOME WONDERFUL MEMORIES .        YES IT HAS THE ORIGINAL STEEL BONNET .
I'M SELLING THE FROG AS IF WE ARE STILL IN THE SIXTIES ,, NO E,MAILS ,,NO EXTRA PHOTOS,, PLEASE USE THAT NEW INVENTION THAT USED TO BE IN THE HALLWAY  ON THE TELEPHONE TABLE .
Contact Us regarding this Vehicle