JAGUAR XK8 "QUITE STUNNING"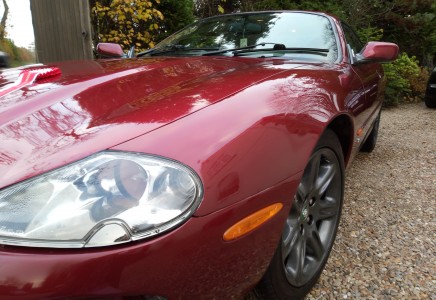 JAGUAR XK8 "QUITE STUNNING" Vehicle Specification
PLEASE NOTE MY NEW MOBILE NUMBER IS NOW     07799382289
AS A JAGUAR ENTHUSIAST AND FOR MANY YEARS ALSO SUPPLYING JAGUAR SPORTS CARS TO FELLOW ENTHUSIAST, WHICH INCLUDED MANY EARLY XK8′s I KNOW THESE CAR INSIDE OUT AND CERTAINLY KNOW A LOVELY EXAMPLE WHEN I SEE ONE THIS IS ONE OF THE BEST AND ORIGINAL EXAMPLES I'VE COME ACROSS IN MANY YEARS .
THERE ARE PLENTY OF TIERED EXAMPLES ON THE MARKET AT SLIGHTLY LESS MONEY, BUT WHEN BUYING THIS TYPE OF CAR A LITTLE MORE INVESTED IN A PROPER ORIGINAL EXAMPLE WITH GOOD HISTORY AND WARRANTY WILL PAY IN THE LONGER TERM AND THEY TRULY DON'T COME ANY BETTER THAN THIS ONE WHICH IS TOTALLY UNMARKED AND RUST FREE WITH A VERY RESPECTABLE STAMPED UP HISTORY , ALL ORIGINAL BOOKS AND FOLDER .
WILL BE SOLD WITH MY PERSONAL WRITTEN WARRANTY AND RECOMMENDATION BASED ON 50 YRS SUPPLYING JAGUARS AND OTHER ICONIC CLASSIC SPORTS CARS . IT JUST DOESN'T GET BETTER THAN THIS,, NO RISK AND NO DISAPPOINTMENTS
PLEASE PHONE FOR FURTHER DETAILS OR PRIOR APPOINTMENT TO VIEW .
PLEASE USE THE THING WE TALK TO EACH OTHER ON,,,   BEST NUMBER NOW TO CONTACT ME PERSONALLY ON IS    07799382289
.
DELIVERY CAN BE ARRANGED ANY WHERE IN THE UK AT REASONABLE RATES.
Contact Us regarding this Vehicle