DEFENDER TD5 May SWAP for classic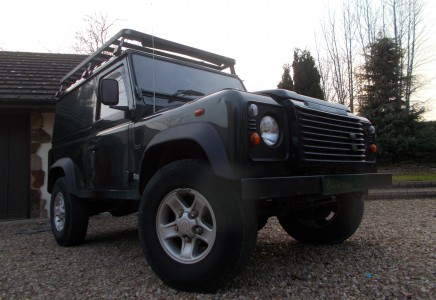 DEFENDER TD5 May SWAP for classic Vehicle Specification
Not our usual type of classic this was a part exchange but too good an example to sell out to trade ,,I'm told these Defenders are a desirable and possibly a good investment now .
So here it is,,, The TD-5 Defender looking very smart and drives perfect,, REAR SIDE FACING SEATS ,DOG GUARD, WIND DEFLECTORS , AND ROOF RACK A great multi-purpose work or family run-a-bout.
Part ex ,swaps,exchange deals welcome with cash adjustment up or down .
WE ALSO HAVE A VERY NICE 2007 RANGE ROVER SPORT HSE PICTURED BELOW AVAILABLE FOR A SWAP FOR CLASSIC VEHICLE !!! EVEN OUR 2 4X4s FOR ONE QUALITY CLASSIC. CASH EITHER WAY
SERIOUS PHONE INQUIRIES ONLY PLEASE ,,,, "SORRY WE NO LONGER RESPOND TO TIME WASTING E-MAILERS"
VIEWING BY APPOINTMENT ONLY .
Contact Us regarding this Vehicle