MG MIDGET 1966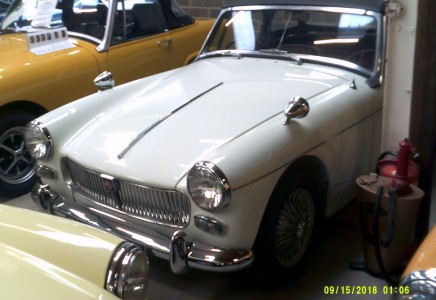 MG MIDGET 1966 Vehicle Specification
TELEPHONE 07799382289.
THESE EARLY SIXTIES MIDGETS ARE RARELY OFFERED FOR SALE IN THIS CONDITION ALSO VERY REASONABLY PRICED, CERTAINLY THE RIGHT SPEC AND A GREAT INVESTMENT IN THE FINANCIAL AND FUN DEPARTMENT .
THESE DETAILS COULD NOT BE BETTER IN THE MG WORLD
.TOTALLY RUST FREE
.CORRECT EARLY STYLE LARGER CHROME BUMPERS .
.ORIGINAL STEERING WHEEL, CHARMING ORIGINAL CHROME DOOR HANDLES AND FITTINGS .
WIRE WHEELS AND SPINNERS .
CORRECT AND FABULOUS RED LEATHER INTERIOR PIPED IN WHITE .
NEW HOOD.
NEW CHROME WORK .
PERFECT LINES, GAPS, AND SHUT LINES
OLD ENGLISH WHITE WITH POPPY RED LEATHER AND ""MUCH MORE"" .
THIS FULL AND HIGHLY DESIRABLE PACKAGE INCLUDES MY PERSONAL WRITTEN WARRANTY .
PLEASE CALL 07799382289 FOR FURTHER DETAILS AND APPOINTMENT TO VIEW ,,,, NO E,MAILS PLEASE .
WE CAN DELIVER TO YOUR DOOR AT REASONABLE RATES .
.
Contact Us regarding this Vehicle