MG MIDGET " CLASSIC 66 MODEL"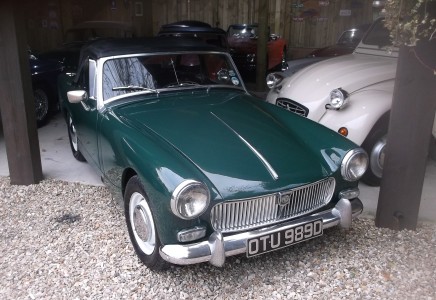 MG MIDGET " CLASSIC 66 MODEL" Vehicle Specification
Here we have a very well sought-ed and rust free "60′s" MG Midget she's 52 years old  ,, hopefully the photos tell the story,, these as all early sixties British sports cars are really getting quite difficult to find in this current classic car boom ,
There has never been so many TV program's  promoting all types of classics, add to that some of the popular TV adverts feature all types of classics ! never has the 60′s classic sports cars  been so popular, more popular than even they  where in the 60′s I know as I was there !!!  so if you are fed up of travelling to see yet again mis- described cars I'm sure it will be a pleasant surprise when you see our cars ,although not possible to go concourse they are all well presented and thoroughly checked through in our workshops and then sold with 12 months MOT and my personal   "written warranty" .
Please to avoid disappointment  always ring first before coming to view, also I can give you directions as we have two sites one being our workshops
Delivery can be arranged anywhere in the uk.
Phone inquiries only please we no longer have time to answer endless E,Mails
Contact Us regarding this Vehicle