MGB ROADSTER " IMMACULATE "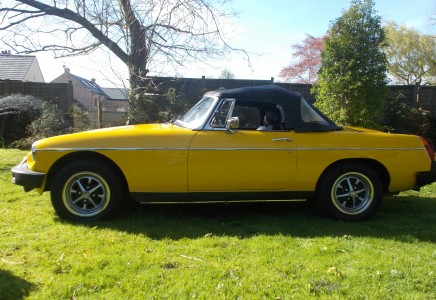 MGB ROADSTER " IMMACULATE " Vehicle Specification
NOW READY TO VIEW AFTER EXTENSIVE RENOVATION IN OUR WORKSHOPS – - INCLUDING NEW CLUTCH ASSEMBLY ,ALSO expensive FULL TOP QUALITY REPAINT.
LOOKS ABSOLUTELY STUNNING IN ORIGINAL SPEC ,THE PAINT FINISH IS NOW EQUALLY AS GOOD AS WHEN IT CAME OUT OF THE MG FACTORY AND INCLUDES HOOD COVER AND TONAEU COVER .
NO EMAILS PLEASE ! CALL BY PHONE IF YOU ARE SERIOUSLY INTERESTED IN VIEWING/BUYING THIS BEAUTIFUL MECHANICALLY SUPERB ROADSTER..
SOLD WITH MY PERSONAL RECOMMENDATION BASED ON ALMOST 50 YEARS EXPERIENCE IN FINDING,PREPARING AND PRODUCING BEAUTIFUL CLASSIC VEHICLES .
WILL ALSO BE SOLD WITH MY PERSONAL WRITTEN WARRANTY AFTER THOROUGH PREP AND CHECK IN THE WORKSHOPS BY OUR EXPERIENCED CLASSIC ENGINEERS .
DELIVERY NO PROBLEM ANYWHERE IN THE UK AT REASONABLE RATES .
Contact Us regarding this Vehicle