MINI COOPER 1966 MK1 998cc Almost Ready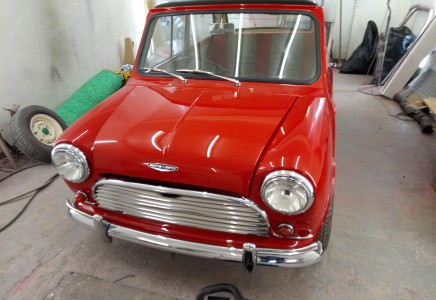 MINI COOPER 1966 MK1 998cc Almost Ready Vehicle Specification
ALMOST READY THIS ONE HAS ITS VERY RARE ORIGINAL SEATS,,, WORTH £5000 IF YOU CAN FIND THEM THESE ARE ITS ORIGINAL FACTORY SEATS IN SUPERB CONDITION .
WHAT A GREAT OPPORTUNITY TO OWN THIS VERY RARE AUSTIN MINI COOPER AND TO TAKE DELIVERY ON THE 60TH ANNIVERSARY OF THE FIRST MINI PRODUCED AND SOLD . ALSO CAN YOU BELIEVE IT IS ALSO THE 50TH ANNIVERSARY OF THE ITALIAN JOB SCREENED BACK IN 1969 ..
WILL BE SOLD WITH A 60TH ANNIVERSARY PRESENTATION PHOTO ALBUM OF THIS VERY SPECIAL MINIS DETAILED RESTORATION .
WE WILL ALWAYS CONSIDER EXCHANGE DEALS UP OR DOWN ,,,   MOST CLASSIC VEHICLES CONSIDERED ,,,     AT THE MOMENT VERY INTERESTED IN AMERICAN PICK UPS .
Contact Us regarding this Vehicle