MINI VAN 1295 RACE TUNED ENGINE,,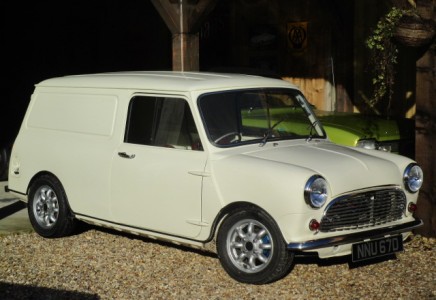 MINI VAN 1295 RACE TUNED ENGINE,, Vehicle Specification
TOTAL GROUND UP NUT AND BOLT RESTORATION     please phone 0779938289
looks standard  until you look under the bonnet which reveals a fully race tuned   newly built engine . PLUS many performance/ handling///breaking enhancements
So whether leaving Mini Coopers in the dust or casually driving in modern day traffic you have the best of both driving conditions '
We have a full spec sheet of the engine rebuild  and detailed file of total " nut and bolt " restoration please ring for further details .
We are also currently restoring a 1966 MK-1 Mini Cooper ( PLEASE RING FOR DETAILS )  .
Sold with my personal recommendation and written warranty.
Can be delivered anywhere in the uk,
Please always ring first for viewing appointment on 07799382289,, plus I feel  appraisal of these types of vehicles are much more informative verbally rather than endless back and forth e,mails' lets do it the good old fashioned way as when theses were every day cars..
Contact Us regarding this Vehicle