MK1 MINI COOPER 1966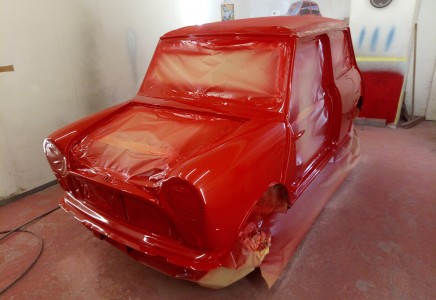 MK1 MINI COOPER 1966 Vehicle Specification
"HOW RARE IS THIS OPPORTUNITY" A MK1 AUSTIN MINI COOPER . WILL BE READY SOON .
ESPECIALLY ON THE 60TH ANNIVERSARY OF THE ICONIC MINIS INTRODUCTION TO THE WORLD . HOW INCREDIBLY TO BE BEAUTIFULLY RESTORED AND DOCUMENTED ACTUALLY ON THE 60TH ANNIVERSARY OF THE FIRST MINI BUILT .
THIS IS TRULY A ONE OFF OPPORTUNITY AND WILL ""NEVER HAPPEN AGAIN"" UNTIL THIS ACTUAL CAR REACHES THE NEXT 60 YEARS ANNIVERSARY,, WHICH IT WILL DO IF LOOKED AFTER PROPERLY AND MAYBE HANDED DOWN TO THE NEXT GENERATION .
FORGET ALL THE FUSS ABOUT THE BREXIT ! ! LETS LOOK BACK TO WHEN BRITAIN WAS GREAT YES "1966″ WE WON THE WORLD CUP AND SOME HARD WORKING LUCKY PERSON BOUGHT THIS BEAUTIFUL MINI COOPER BRAND NEW .
SPEND. THAT MONEY YOU'VE GOT TUCKED AWAY FOR A RAINY DAY,, HAVE SOME FUN "NOW" THERE'S GOING TO BE LOTS OF MINI RALLIES THIS YEAR, MINI GATHERINGS ,MINI SHOWS ALL THE CLASSIC CAR GATHERINGS WILL BE TALKING ABOUT MINIS AND HOW GREAT THIS COUNTRY WAS "IT WILL BE AGAIN" BUT NOT IF WE DON'T ALL STOP MOANING AND WORRYING,
WILL LOAD FURTHER IMAGES AS WORK PROGRESSES , ALL PHOTOS OF THIS MAGNIFICENT RESTORATION WILL BE INCLUDED IN THE FINAL ALBUM .
IT DOESN'T MATTER WHETHER I SELL THIS ICON OR NOT AS IT CAN ONLY KEEP ON GOING UP IN VALUE, I'VE OWNED IT NOW FOR 5 YEARS BUT I DON'T REALLY GO TO SHOWS AND RALLIES, SO SOMEONE SHOULD OWN MY MINI THIS YEAR WHO WILL ENJOY THE CELEBRATIONS . PUT YOUR NAME ON IT "NOW" COME AND SEE US LOVINGLY RESTORING THIS 66 COOPER "WHERE WOULD YOU FIND ANOTHER ? ? ? . I'VE CHECKED THERE ISN'T A MK 1 FOR SALE ANYWHERE AND DEFINITELY ONE FRESHLY RESTORED ON THE 60 TH ANNIVERSARY
PLEASE CALL FOR FURTHER DETAILS OR AN APPOINTMENT TO VIEW , WHY NOT COME AND TALK TO GUYS RESTORING IT .
NO E,MAILERS WE WONT RESPOND .
PART EXCHANGES CONSIDERED ONLY NICE EXAMPLES PLEASE
Contact Us regarding this Vehicle