Porsche 924 S 1985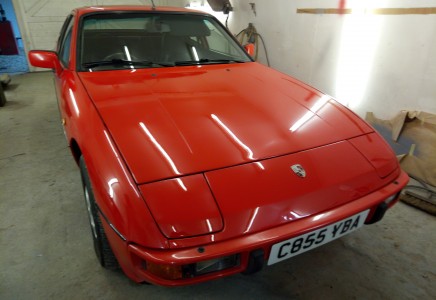 Porsche 924 S 1985 Vehicle Specification
MORE PHOTOS TO FOLLOW
GOOD EXAMPLES OF THE 924 5 WITH HISTORY NEED BUYING "NOW" TAKE MY WORD AFTER 50 YEARS IN THE CLASSIC CAR BUSINESS I'VE PREDICTED MANY SUREFIRE CARS TO INVEST IN,, OFTEN NOT ACTING ON INSTINCT I'VE ALSO MISSED THE BOAT SO TO SPEAK, OR SHOULD I SAY MISSED THE CAR .
IT MUST BE THE "924S" TO BUY AS ITS A PROPER 2.5 PORSCHE ENGINE WITH SAME PERFORMANCE AS THE 924 TURBO AND OF COARSE IT HAS TO BE GUARDS RED WITH PORSCHE SCRIPT HALF LEATHER SEATS WITH FULL SERVICE HISTORY .
WELL WE HAVE JUST THAT CAR !! . PICTURED HERE BEING FULLY PREPARED IN OUR WORKSHOPS
MORE PICTURES TO FOLLOW GOOD EXAMPLES WILL NEVER BE THIS PRICE AGAIN AND WHAT GREAT CARS TO OWN AND DRIVE
WILL BE SOLD WITH MY PERSONAL COMMENDATION AND WARRANTY ,
DELIVERY TO YOUR DOOR AT REASONABLE RATES OR DRIVE HOME .
NO E-MAILERS PLEASE JUST SERIOUS PHONE INQUIRIES .
Contact Us regarding this Vehicle