PORSCHE 928 S AUTO 1986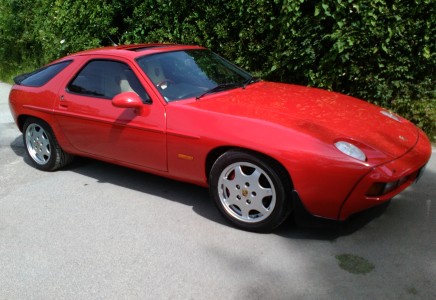 PORSCHE 928 S AUTO 1986 Vehicle Specification
Would exchange for earlier classic ,,  cash either way ,,  car or commercial  European or Yank !!!!!!!
WHAT A GREAT EXAMPLE OF THE EARLY PORSCHE 928S ,, FINISHED IN GLEAMING UNMARKED GUARDS RED BEAUTIFULLY COMPLIMENTED WITH NEW CREAM PORSCHE LOGO'D LEATHER .
HAS ONLY 83,000 Mls  WITH DETAILED HISTORY ,  SUPERBLY INDEXED AND FILED  IN CATEGORY/DATED  ORDER .
THIS STUNNING PORSCHE WAS OWNED BY A TOTAL PORSCHE  ENTHUSIAST ,WHO ONLY PARTED WITH HIS REAL LOVE DUE TO MATRIMONIAL CIRCUMSTANCES ,    "REAL LOVE BEING THE PORSCHE OF COURSE" .
THIS 928 HAS WON A COUPLE OF BEST IN SHOW CUPS AND DRIVES FAULTLESS .
PLEASE RING FOR FURTHER INFO AND OR APPOINTMENT TO VIEW    NO E,MAILERS OR PHOTO HUNTERS ,,  WE ONLY TAKE PHONE ENQUIRIES FROM GENUINELY INTERESTED POTENTIAL BUYERS,,,   THANK YOU.
May consider part exchange,  could be very interested in American Trucks .
When confidence returns these under priced Porsche s will rocket in value.
Now is with out doubt the time to buy  ,,   Good examples will not remain at these prices for much longer
Contact Us regarding this Vehicle