RANGE ROVER 3 DOOR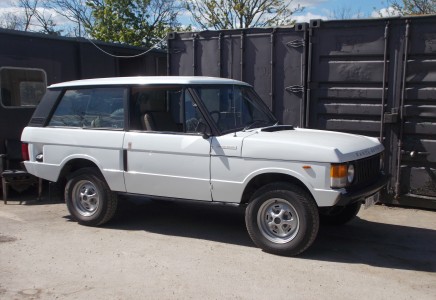 RANGE ROVER 3 DOOR Vehicle Specification
(RECENTLY 2016) ARRIVED IN UK AFTER SPENDING IT'S LIFE IN THE SOUTH AFRICAN SUNSHINE . COMPLETE WITH V5 AND ALL CERTIFICATES DUTY PAID IN UK.
THIS WOULD NOT NORMALLY HAVE COME ON TO THE UK MARKET,,, ONLY NOW FOR SALE ON BEHALF OF MY GOOD FRIEND WHO SADLY PASSED AWAY SHORTLY AFTER BUYING HIS DREAM LATE 2016.
" Will also consider exchange deals ,,any type of vehicle considered ,cash adjustment either way "
NEVER SPENT A WINTER ON THE UK ROADS/FIELDS/SNOW OR SALT HENCE RUST FREE ORIGINAL CONDITION,, NO CORROSION ON THE EXTERIOR PANELS AS WAS ALWAYS THE CASE WITH UK RANGE ROVERS,, NICE SOUND AND EASY SHUTTING TAIL GATE ,, " AGAIN QUITE RARE TO FIND THIS " NEEDS CENTER CARPET BUT HAS BRAND NEW HEADLINING PROFESSIONALLY FITTED BY OUR LOCAL AUTO TRIMMER .
SERIOUS BUYERS ONLY PLEASE INQUIRE ON THIS VEHICLE .
NO BACK AND FORTH E,MAILERS .
NO PHOTO HUNTERS
GENUINE PHONE INQUIRIES ONLY,,, I WILL GIVE YOU A FAIR APPRAISAL AS I USED TO DEAL IN THESE EARLY RANGE ROVERS BACK IN THE DAY. Known as ( THE STABLES 4X4 )
Contact Us regarding this Vehicle