TO CLEAR!! EXCHANGE FOR CLASSIC CAR / "CASH EITHER WAY"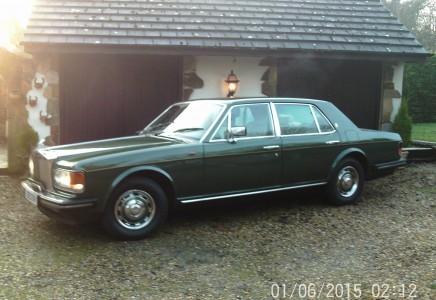 TO CLEAR!! EXCHANGE FOR CLASSIC CAR / "CASH EITHER WAY" Vehicle Specification
FINAL END OF SEASON REDUCTION " to clear" AN ABSOLUTE GIFT. please phone 07799382289
120,000 MLS WITH EVERY MOT FROM FIRST MOT, NOW REQUIRES NEW MOT NICE HISTORY FILE INC RECEIPTS NO HAND BOOKS ETC
PLEASE BEFORE ANY MORE E,MAILERS EXPECTING THIS TO BE A SHOW CAR AT THIS PRICE,, LOOK ELSEWHERE AND EXPECT TO PAY TWICE THE PRICE AND MORE
" IF YOU WANT A DECENT ROLLS " at around 5 k please call me we will not respond to anymore e.mailers THANK YOU .
Here we have a lovely early Rolls-Royce Silver Spirit "TO CLEAR AT GIVE A-WAY PRICE" finished in a beautiful colour combination which gives her a real touch of class
ALWAYS INTERESTED IN EXCHANGE DEALS "UP OR DOWN" FOR GOOD CLASSIC CARS OR COMMERCIALS
Some of these Spirits were either dull and boring with sometimes strange colour combinations clashing with interiors or much too garish losing that touch of class ""possibly associated with life in the 80′s""
This Spirit exudes class and truly should be driven by a gentleman with taste .
The overall condition is good, the odd small blemish nothing distracting from its beautiful overall appearance and drives as you would expect "a silent Spirit" .
PLEASE NOTE WE HAVE NOW REDUCED THIS ROLLS FURTHER AS IT CAME TO US WITH A FULL MOT, HAS DONE VIRTUALLY NO MILEAGE SINCE AND NOW WOULD NEED RETESTING BEFORE USE-ING ON THE ROAD HENCE ABSOLUTE FINAL GIVE AWAY PRICE OF ONLY £4750
Viewing strictly by phone appointment . PHONE 07799382289
Would be happy to consider exchange deals with financial adjustment either way , will consider American Trucks and all classics,
For initial full detailed appraisal please phone 07799382289 as we don't have time to respond to endless e-mails and photo requests, however we are happy to send detailed photos after an initial serious inquiry.
Contact Us regarding this Vehicle