SUNBEAM ALPINE 1725 cc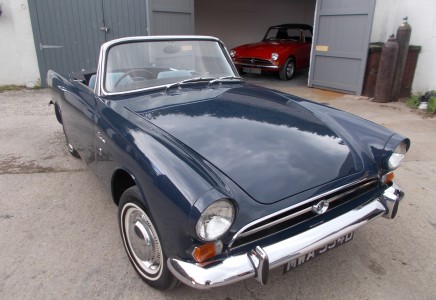 SUNBEAM ALPINE 1725 cc Vehicle Specification
"TAKE A LOOK AT ME NOW" (WITH MY NEW WHITE BANDS) ""plus considerably reduced over the Christmas /new year period"" THESE ARE NEW PICTURES OF THE BLUE ALPINE FEATURED FURTHER DOWN ON THIS WEB SITE , WHICH IN OUR OPINION HAS VASTLY IMPROVED IT PRESENCE . PLUS THIS THE GT MODEL WITH BOTH SOFT TOP AND FACTORY HARD TOP .
This is one of the best examples we've had the opportunity of buying in recent years and compares admirably to the alpines we restore in our Harrogate workshops. As featured in the classic car magazine pictured back in 2014 along side James bond driving the Alpine in his very first car chase in Dr No .
CONFIDENCE WILL RETURN POST BREX-IT  —   now is the sensible time to buy –  This superb Alpine has been considerably reduced
Hey take a look also at the Gleaming Red Alpine Holbay parked in one of our workshops after completion of comprehensive restoration .
TELEPHONE 07799382289
No P/ex realistic offers considered
Cash either way always considered with interesting classic vehicles .
Contact Us regarding this Vehicle