Sunbeam Alpine 1750cc with overdrive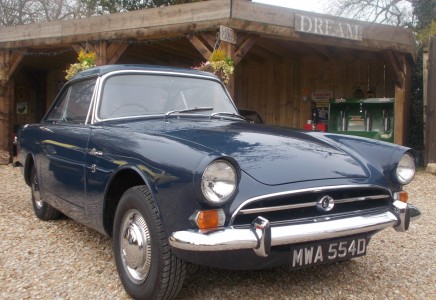 Sunbeam Alpine 1750cc with overdrive Vehicle Specification
We are delighted to have this beautiful Sunbeam again ,,whenever we sell one of our classics we always ask for first chance of buying them back at some stage in the future ,
With nice examples getting harder to find its always great to buy cars we have previously prepared to high standards .
They really don't come much better than this one,,, flawless paintwork ,gleaming unmarked chrome, totally rust free ,starts on the button and drives wonderfully with instant smooth operating overdrive ,comes complete with hard and soft tops plus full toneua cover .
The light blue interior which is actually a paler blue in the flesh, makes a nice contrast to the darker blue coachwork ,
Please ring for further details or appointment to view .
I'm sorry we no longer respond to back and forth e,mails .
Sold with my personal written warranty ,
Can be delivered at reasonable rates throughout the UK
Contact Us regarding this Vehicle