SUNBEAM ALPINE 1966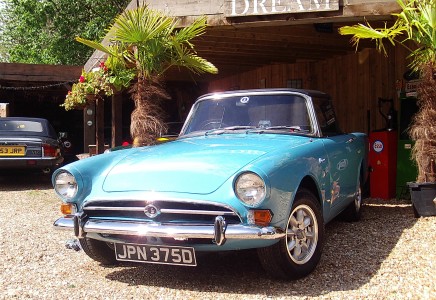 SUNBEAM ALPINE 1966 Vehicle Specification
PHONE INQUIRIES ONLY PLEASE " NO E-MAILERS " NO OFFERS YOU WONT FIND BETTER .
These are the last two fully restored Alpines we can offer at these prices as it actually costs us more than the asking prices to restore to these standards .
TWO SUNBEAM ALPINES CURRENTLY BEING RESTORED IN OUR WORKSHOPS. " WILL SOON BE READY AND WILL BE ABSOLUTELY FABULOUS "
COME AND TAKE A LOOK ! OR FOLLOW RESTORATION DOCUMENTED IN THIS ADVERT AS WORK PROGRESSES , ALL WILL BE CAPTURED IN AN ACCOMPANYING ALBUM FOR THE NEW OWNERS .
TAKE A LOOK AT THE PICTURES IN THIS ADVERT WHICH IS WORK IN PROGRESS ,THE RED HOL-BAY IS NOW STARTING TO BE RE-ASSEMBLED , ,
The first pictures are of our last restoration which sold almost immediately
THE RED ALPINE (NOW IN ITS "BRAND NEW" INSIDE AND OUT GLEAMING PAINT FINISH ) IS THE RARE HOL-BAY TWIN WEBER VERSION "WOULD GIVE THE TIGER A RUN FOR ITS MONEY" AT LESS THAN HALF THE PRICE OF A TIGER AND POSSIBLY RARER WHICH OBVIOUSLY MAKES FOR A GREAT INVESTMENT AND WILL SOON BE READY .
Tigers in this condition are now commanding well over £100k ,,THEY CANT POSSIBLY COME ANY BETTER THAN OUR SOON TO BE FINISHED ALPINE HOL-BAY AT £24995.
YOU CAN SEE BY THE PICTURES THE AMOUNT OF WORK GOING INTO THIS CAR, NOT THE CHEAPEST ALPINE BUT WITHOUT DOUBT WILL BE THE BEST YOU WILL FIND .
THE BEAUTIFUL BABY BLUE ALPINE AS THE RED CAR HAS HAD A FULL BODY RESTORATION WITH ALL NEW CHROME AND MUCH MORE AND IS NEARING COMPLETION AFTER MONTHS OF DEDICATED WORK.
THESE WILL BE TWO OF THE FINEST ALPINES IN THE UK,,, COME AND VIEW AT ANY STAGE OF THE PREP. BLUE ALPINE PRICED AT £21,995
PHOTO ALBUMS OF THESE RESTORATIONS WILL BE INCLUDED IN SALE ALONG WITH MY PERSONAL WRITTEN WARRANTY .
We are the only company in the UK specializing in Sunbeam restorations .
Phone enquirers only please its the only way I can give a detailed appraisal on these superb Alpines . or come and view at any stage of these restorations,.
We no longer respond to E,mailers or photo hunters.
Contact Us regarding this Vehicle