SUNBEAM ALPINE BEAUTIFULLY RESTORED IN OUR WORKSHOPS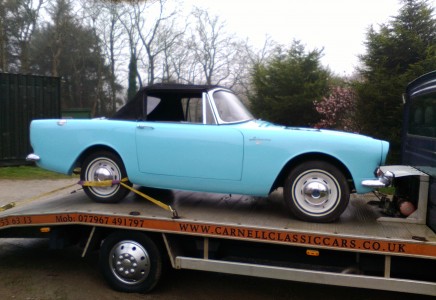 SUNBEAM ALPINE BEAUTIFULLY RESTORED IN OUR WORKSHOPS Vehicle Specification
YES You may have seen this one on our website before   saying restoration  almost complete  but I decided after waiting many years it was time to firstly complete my own car "yes quite selfish but they say sometimes put yourself first so I did .
However both the Sunbeam and my " ground up restored  Healey 3000″  ARE  BOTH NOW FINISHED    "HOO-RAY AT LAST" ….
Pictures of the Alpine on our truck going to specialist to be started and tuned    also pictures of my Healey being restored in our work shops .
If you are interested in buying this beautifully restore Sunbeam Alpine please don't e,mail ,,, give me a call on 07799382289 and I can give you much more information about the car and how its coming along .
All my restored cars are sold with a personal written warranty from yours truly  Dave Carnell ,,  established in Harrogate supplying classic cars for over 50 years .
Contact Us regarding this Vehicle