SUNBEAM "HOLBAY" ALPINE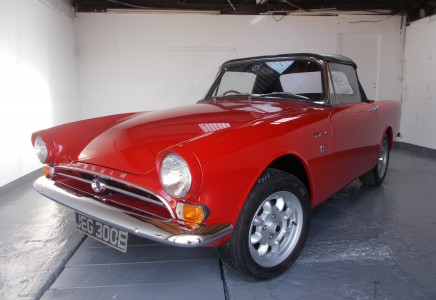 SUNBEAM "HOLBAY" ALPINE Vehicle Specification
TELEPHONE 07799382289.
AT LAST AFTER 2 YEARS RESTORATION IN OUR HARROGATE WORKSHOPS THIS STUNNING ALPINE HOLBAY IS READY FOR SERIOUS VIEWING
IF YOU WOULD SERIOUSLY LIKE TO OWN THIS FRESHLY RESTORED CLASSIC ALPINE PLEASE CONTACT US BY PHONE 07799382289( NO E-MAILERS PLEASE ) VIEWING STRICTLY BY APPOINTMENT ONLY .
THE PRICE REFLECTS THE AMOUNT OF HOURS SPENT LOVINGLY RESTORING THIS BEAUTIFUL CAR PLUS PARTS,MATERIALS, NEW MO-HAIR HOOD AND ALL NEW CHROME WORK . NO EXPENSE SPARED .
PLEASE SEE ADVERT FURTHER DOWN THIS PAGE GIVING AN IDEA OF THE AMOUNT OF PROFESSIONAL CARE TAKEN ,,NOT TO BE COMPARED TO HOME HAVE AGO RESTORED CARS WHICH MAY ALSO LOOK GOOD IN PHOTOS,, WE'VE SPENT MANY WASTED HOURS VIEWING CARS THAT LOOK GREAT IN PHOTO;S ONLY YET AGAIN TO TRAVEL BACK HOME DISAPPOINTED.
TO BE SOLD WITH MY PERSONAL WRITTEN WARRANTY ..
part exchange considered cash adjustment either way .
Contact Us regarding this Vehicle