SUNBEAM RAPIER CONVERTIBLE NEEDS RECOMMISSIONING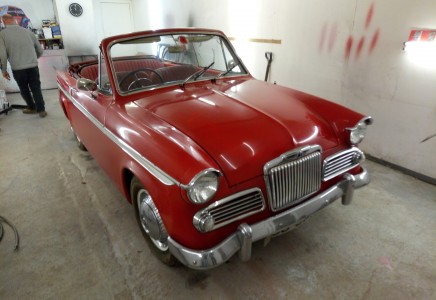 SUNBEAM RAPIER CONVERTIBLE NEEDS RECOMMISSIONING Vehicle Specification
DUE TO BACK LOG OF WORK IN OUR HARROGATE WORKSHOPS WE MAY NEVER GET ROUND TO RECOMMISSION OR RESTORING THIS LOVELY AND SO RARE 1963 SUNBEAM CONVERTIBLE
I HAVE HAD HER STORED HERE IN DRY CONDITIONS FOR AROUND 5 YEARS PROMISING MYSELF EACH YEAR WE COULD GET AROUND TO IT "I STILL HOPE WE CAN" BUT IN THE MEANTIME IT MAKES SENSE TO OFFER IT TO SOME ONE WHO MAY HAVE THE TIME TO BRING HER BACK TO HER FORMER GLORY AND WHAT A FABULOUS CAR TO OWN AND USE .
THIS SUNBEAM IS IN EXTREMELY SOUND AND ORIGINAL CONDITION AND VERY GOOD UNDERSIDE FLOORS ETC , THE ONLY SLIGHT RUST IS ON THE DOOR BOTTOMS AND BOOT EDGE AS SHOWN IN PHOTOS, FOR A LITTLE EXTRA WE WOULD POSSIBLY HAVE THE TIME TO ATTEND TO THOSE AREAS .
WOULD CONSIDER PART EXCHANGE DEALS CASH EITHER WAY FOR NICE EXAMPLES READY TO DRIVE ,
FOR FURTHER INFORMATION AND/OR APPOINTMENT TO VIEW PLEASE ONLY USE THAT THING WE TALK IN TO ! AS I WILL NOT RESPOND TO ANY MORE TIME WASTING E,MAILERS .
WE COULD DELIVER THIS BLUE CHIP INVESTMENT RIGHT TO YOUR DOORSTEP AT REASONABLE RATES ,, THIS TRULY IS A UNIQUE OPPORTUNITY I ONLY WISH I HAD THE TIME TO RESTORE IT TO THE STANDARD IT DESERVES .
Contact Us regarding this Vehicle