TR7 CONVERTIBLE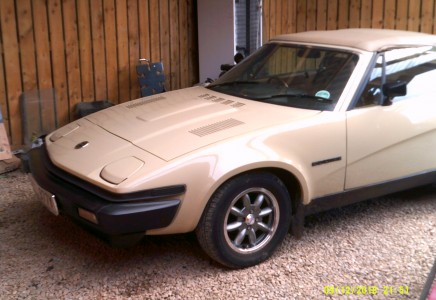 TR7 CONVERTIBLE Vehicle Specification
TEL NO 07799382289
Here we have another superb example of the f=a=s=t=l=y appreciating last of the TR's ,,THIS ONE IS ACTUALLY ONE OF THE FINAL CARS REGISTERED , at last getting the recognition they truly deserves as a 70/80s iconic sports car .
THIS TRULY EXCELLENT TR HAS ONLY COVERED A GENUINE 61,000 FROM NEW BACKED UP BY AN IMPRESSIVE STAMPED UP SERVICE HISTORY PLUS HERITAGE CERTIFICATE,"THE PICTURES ONLY SHOW A HANDFUL OF THE ENTIRE HISTORY FOLDER" VERY HARD TO FIND IN THIS CONDITION AND WONT BE AVAILABLE AT THESE PRICES FOR LONG,, YES THERE ARE CHEAPER TIRED TATTY EXAMPLES AROUND WHICH WOULD FAR EXCEED THE PRICE OF THIS TOTALLY SOUND TR WHEN RESTORED, AND STILL PROBABLY WOULD NOT BE AS GOOD AS THIS LITTLE BEAUTY ,
ONLY VIEWING WILL YOU FULLY APPRECIATE THE OVERALL CONDITION,, EVEN THE INTERIOR LOOKS AS FRESH AS WHEN NEW,, WITH THE BENEFIT OF WALNUT FASCIA AND TRIMMINGS .
THERE WILL BE MORE PICTURES TO FOLLOW
PLEASE TELEPHONE 07799382289 FOR MORE INFO OR APPOINTMENT TO VIEW,, THERE TRULY AREN'T MANY "IF ANY" AS GOOD AS THIS ONE ON THE MARKET TODAY . WHICH WILL BE SOLD WITH MY USUAL WRITTEN WARRANTY .
NO E'MAILERS PLEASE AS WE NO LONGER RESPOND ,, IF YOU WOULD LIKE A SUPERB TR JUST GIVE ME A CALL ,,WE CAN ALSO DELIVER TO YOUR DOOR AT REASONABLE RATES
Contact Us regarding this Vehicle