TRIUMPH TR7 GENUINE 34.000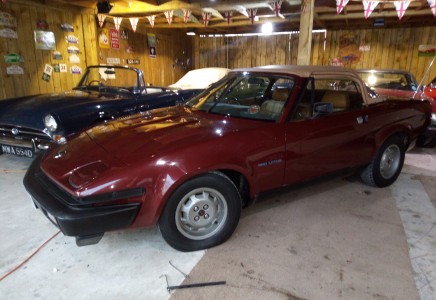 TRIUMPH TR7 GENUINE 34.000 Vehicle Specification
SORRY NOW SOLD ,,,,  OTHER GOOD TR7s REQUIRED,,,, . MUST BE GOOD TO IMMACULATE EXAMPLES.  QUICK DECISION,, INSTANT PAYMENT .
"Once in a lifetime opportunity!   to own this genuine 34,000 ml  TR Convertible ,,  never welded , , never painted ,, literally as she left the factory almost 40 years previously .
This TR was stored for 24 years in a heated indoor environment until recently, hence superb condition  structurally and mechanically all structural parts and cavities have been pressure injected with wax oil to preserves her for many more years to come.  There will not be another like this available in the near future is ever .
Realistically priced for any TR in this condition and without doubt a fantastic investment .
Sold with my personal recommendation and warranty .
Only serious enquiries by telephone please   we no longer respond to inquisitive e-mailers
Contact Us regarding this Vehicle